Return to Photos.
M. E. Kerr enjoys hearing from her fans.
In 2009, Colin read If I Love You, Am I Trapped Forever in school and made a book trailer for it. We were very thrilled that he shared it with the us!
Trapped Forever
Screenplay by Colin
Based on the novel by M.E. Kerr

For a project in a Children's Literature class I wrote and directed a small movie trailer for the purpose of advertising the book If I Love You Am I Trapped Forever. It is approx. 2min long and tells the story of high school student Alan Bennett as he discovers "good looks don't last," when it comes to life and love.

Note: This movie is all pretend. It is in no way trying to copy or steal the authors work. It is only the creative results of what someone saw when reading the book.

I just wanted to say that I enjoyed reading this book. I currently hoping to go into guidance counseling and thought this book said some interesting things about adolescent childhood.

In Him,
Colin
We were also very pleased to receive the following note and photos.
In 4/04 Mr. Brignac's class wrote:
Dear Ms. James, We have just finished reading "Shoebag" and we thoroughly enjoyed it! We just found out, via your website, that there is another book about Shoebag. We can't wait to get it so we can find out what other adventures Shoebag might get himself into! We each wrote our own booklet on Shoebag, and have really had fun predicting what would happen next! Thank you for writing such a GREAT and WONDERFUL book! Best of luck to you, Sincerely, The 3rd Graders at Phoebe Hearst Elementary School in Metairie, La.
Here is Mr. Brignac's class being read to by their own Shoebag.
Mr. Brignac's class – Picture 1
---
Mr. Brignac's class – Picture 2
---
Mr. Brignac's class – Picture 3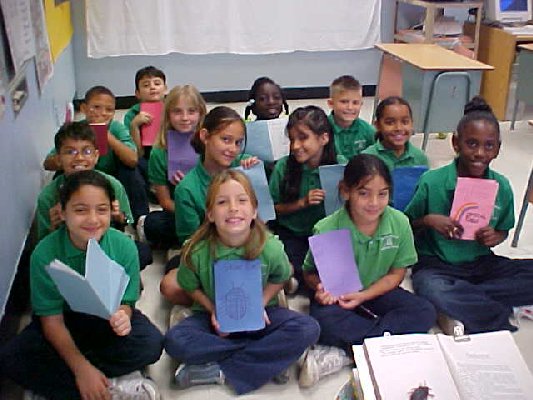 ---
Mr. Brignac's class – Picture 4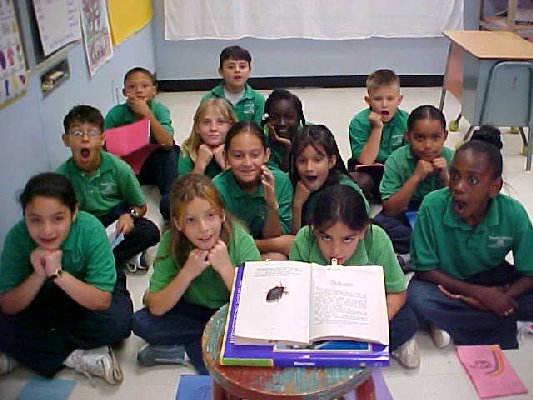 Update: After the tragic disaster of Hurricane Katrina in August 2005, good friend to the site, Peter Sieruta, M. E. Kerr and I worried about Mr. Brignac and his students. So we reached out to them:
Dear Mr. Brignac and Class,

We were thinking about you all in Louisiana and wanted to be sure to send our cyber support to you all.

On behalf of all of us at the site,

Michelle, Webmaster
www.mekerr.com

September 6, 2005
Michelle, I can't tell you how touched I am that you took the time to send your best. I'm about 3 hours out of the city now staying with friends. As far as the kids, they are dispersed across the southern states. I ran into one of them at a shelter today, and just held her and we cried. There is so much tragedy around us right now it can be overwhelming. Your message also brought me to tears, to think that you all would remember us and be thinking of us. You just don't know how much your message moved me. We sometimes forget how touching a few words of support can be. Thank you again Michelle and Ms. Meaker! I can guarantee you that everyone I know will hear how you reached out to the kids in this time of need. I wish you both the best, and thanks again. Kevin Brignac
Many thanks to Mr. Brignac for sharing his thoughts with us.
Return to Photos.