Return to Photos.
Our good friend Peter Sieruta submitted the first pictures to our "Fan Photos" section. So many thanks to him for this fun addition. He inspired M. E. Kerr to provide some pictures.
Elgin the Yorkie enjoys Snakes Don't Miss Their Mothers by M. E. Kerr
On 12/27/03, Peter wrote: My brother was just home for Christmas and brought along his best friend — a nice little Yorkie named Elgin. When Elgin learned that M.E. Kerr had recently published an animal story he of course wanted to read it.  He gave the book a rating of "four wagging tails" — the canine equivalent of "four stars."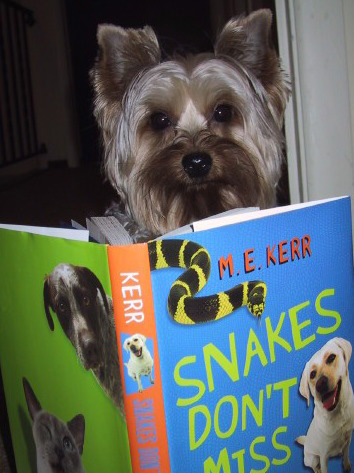 M. E. Kerr catches her cats reading (although only one of them really knows how to read)
In 1/04 M. E. Kerr wrote: I caught both cats reading last night… I knew Faheeja had hidden talents, not only from her letter [Note from Webmaster: I will try to find a copy of this.] but from snapshots Pants took of her, in her house, with a book just outside. Maybe as she promises she will one day become literate but her priority for the new year is a diet. Pants did not dare shoot Faheeja full-length, outside her house, for she is always inside dreaming of being asked by Oprah for a makeover. She has to lose at least 8 pounds and she needs a new dress, bag, high heels and a hat with a feather on it.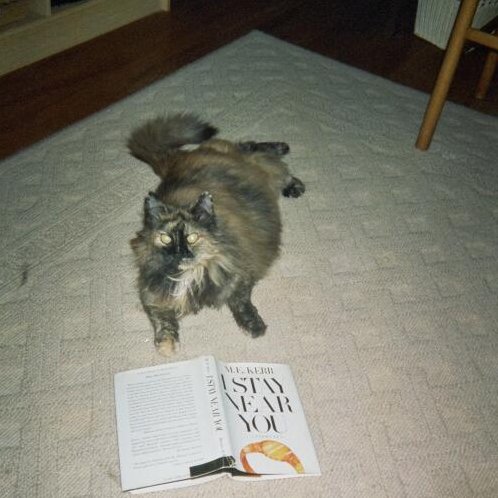 Return to Photos.